The fashion of the 1990s is one of the most popular styles of the past few years, and the best-dressed people from that decade continue to prove it. At that time, there were a few people who really ruled the fashion world. People still look at them and sigh when they think of them. Yes, we're talking about Brad Pitt, Tom Cruise, and the rest. Even though they've been around for a long time, they're still experts on fashion, and you should take a look at them to save some trends that may now be your favorites.
Before you start, remember that all fashion can be changed to fit different situations and bodies. Don't be discouraged; it's easy to look like these style icons, and we'll show you how.
Tom Cruise and his laid-back look for work
You don't know what to wear to the office on Friday. Why not bring back one of the actor's best looks from Top Gun? You only need three simple pieces of clothing, and most importantly, you should be sure that your look is good. The first thing to do is find a dark-colored blazer (you can wear linen if it's very hot or wool if it's very cold), a white shirt (he likes round necks), and jeans. Don't forget that the details are very important. If you like to use high-end brands in a subtle way, this look will be perfect for you.
You could even bet on a similar hairstyle, because thanks to Korean boybands, hairstyles are important even on the street and in semi-formal settings. You can wear a silver ring if you want, but never add chains to this simple nineties look.
Leo DiCaprio and total denim
Leonardo DiCaprio is the best way to remember what denim looked like in the '90s, because he wore the best styles of the decade. To give it a retro feel, it's best to choose leather pieces or accessories that are bright or different from the blue of the jeans.
You can even look like the legendary James Dean by wearing a white t-shirt under a denim shirt.
Brad Pitt's everyday style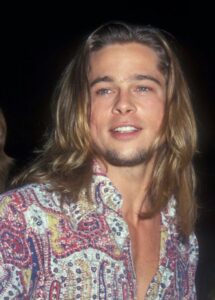 In the fashion world, the nineties were all about making comfort cool again. The grunge style screamed that everything was casual. As proof, we can look at the stages of all the actors with long hair in Hollywood. The looks of the past were popular because they were casual and had some boho pieces, floral prints, or bright patterns.
Brad Pitt also chose the well-known goatee, but he didn't have a mustache or long hair. We don't think this is a very formal look, but it could be updated with a loose shirt in the same style and maybe a more put-together hairstyle. Of course, we're not against how messy the look could be. On the contrary, we think it's best to find the right time to wear it. If you like to wear your hair long and uncombed, a wide-brimmed hat, a cap, or even a beanie will make you look trendy and modern.
Jhonny Depp and how to wear a white shirt the right way
We could look bold with just a white t-shirt, but in the 1990s, people didn't pay as much attention to these kinds of fashion rules. Today's fashion tells us that everyone can wear whatever they want, whenever they want, and this picture of Johnny Depp wearing a "simple" shirt with jeans and a shirt to the hips is proof. The best thing about this mix of pieces that don't match is that he chose a gray tone to balance it out. This keeps the style of the outfit from being lost.
We would wear it with shorts and a belt bag over the shoulder now. You'll see that this doesn't make you look old-fashioned, and the trendy accessories give it a modern touch.
Keanu Reeves has the simplest style
On the other hand, influencers on Instagram and Tik Tok love minimalism and neutral colors now, but Keanu Reeves brought it back in the 1990s and made it his own in the most elegant way possible. The best part is that there are pictures of Keanu wearing the same patterns of pastel colors, black, or even gray, and giving him the famous nineties touch with oversized accessories and clothes or even oval-shaped sunglasses. One of our favorite fashion icons is Mr. Reeves.