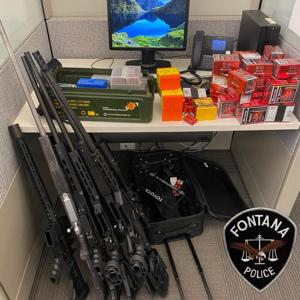 A wanted man and woman from central California who were armed with a loaded AR-15 rifle were arrested in Fontana after a wild pursuit and carjacking incident on July 9, according to the Fontana Police Department.
On July 9, Fontana P.D. patrol officers located the suspects' vehicle, which was wanted out of Fresno for a burglary involving the theft of high powered rifles, police said in a Facebook post.
A pursuit was initiated and officers gave chase. During the pursuit, the suspect vehicle traveled the wrong way on local streets at high rates of speed.
Then the suspects, Tielman Lindsay and Angela Lindsay, stopped and got out of the vehicle. They allegedly pointed the AR-15 at another vehicle, forcing a family out, and carjacked that vehicle.
The suspects continued to flee from police until they stopped at a gas station. Officers were able to take them into custody after a brief struggle with Tielman Lindsay, police said. The AR-15 was found in the front seat of the second vehicle at the end of the pursuit.
No officers or civilians were injured during this incident, police said.
In the end, six rifles were recovered and more than 3,000 rounds of ammunition were found from the original burglary in Fresno, police said.
Tielman was also found to be wanted in Lake Havasu, AZ on 17 felony cases. Both Tielman and Angela Lindsay were booked at West Valley Detention Center.
"Officers worked together, did great police work and were able to stop the suspects. Great job by patrol," police said in the Facebook post.