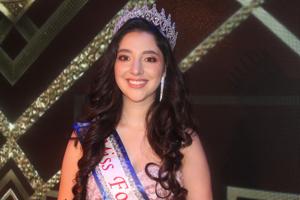 Fontana resident Camila Valencia has accomplished a lot in a short period of time, and she added one more impressive achievement to her list on June 26.
Valencia, a business development manager and notary public, was crowned the queen of the city during the 2021 Miss Fontana Scholarship Pageant at Center Stage Theater.
Valencia, who was named the Miss Fontana Ambassador in last year's pageant, is also attending Chaffey College and majoring in business administration, with hopes of obtaining her real estate license. In addition, she serves as a volunteer with various organizations in Fontana.
As Miss Fontana, she said her goal is to inspire more young ladies to get involved in the pageant and go on to become future leaders. She knows firsthand that following the road to success requires a lot of dedication.
She was born in Las Vegas, Nevada and then spent her childhood in Mexico, attending Preparatoria Jilotlan de los Dolores in Jalisco, before coming to Fontana.
"When I moved to this country, I came here by myself. I was just a young little girl who had dreams, and the city transformed me to be a woman of action," said Valencia, who is now 24.
She said that having to learn a new language was tough, "but it makes you appreciate the good things in life. When you work hard enough and you see the reward, that's what fulfills my heart."
She is joined on the Miss Fontana Court by First Princess Natalia Ramirez, Second Princess Jackie Heredia, Third Princess Sarah Garcia, and Ambassador Jayleen Cruz.
In addition, Valencia was given the Top Participation award during the pageant. Ramirez received the Miss Congeniality award, while Margarita Ortiz-Navarro obtained the Best in Interview award and Maria Velasco-Loera was lauded for Best Resume.
—– ALSO during the event, Teresa Morales, a junior at Etiwanda High School, was named Teen Fontana.
Morales, who was participating in the pageant for the third time, said it was a very good experience.
"Every year I have gained something from Miss Fontana, and it has never let me down," she said. "I'm excited for this year's court."
The other members of the Teen Fontana court are First Princess McKenzie Tindall, Second Princess Genesis Ruiz, Third Princess Genesis Ibrahim-Balogun, and Teen Ambassador Sara Rodriguez.
Morales received the Best in Interview award, while Tindall was given the awards for both Congeniality and Best Resume. Arely Jimenez was honored with the Top Participation award.
—– THE annual pageant was downsized this year because of the COVID-19 pandemic, but organizers are planning to bring it back to its regular home at the Fontana High School Auditorium in 2022.
Citlalli Cadena, the 2020 Miss Fontana winner, said that she enjoyed her reign during the past year even though she did not get a chance to attend many city-related events due to the social distancing regulations.
"I still appreciated that the Miss Fontana Organization found time to have my court and I come together and get to know each other," she said.
Cadena, a Summit High School graduate, has been attending Chaffey College and is planning to transfer to UC Davis to major in animal science. Her goal is to become a wildlife veterinarian.