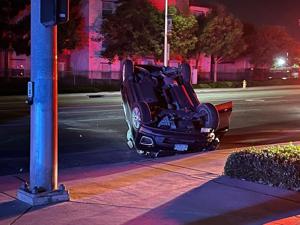 A traffic collision knocked out a traffic signal controller cabinet on Sierra Avenue in the downtown area of Fontana, creating difficulties for motorists earlier this week, the Fontana Police Department said.
The Fontana City Engineering Department had southbound Sierra Avenue between Orange Way and Ceres Avenue closed to all through traffic on July 12, police said in a Facebook post.
A collision in which a car flipped and turned upside down took place in the early morning hours of July 11 at the location.