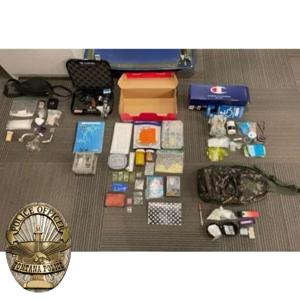 A drug dealer was arrested recently in Fontana, according to the Fontana Police Department.
Last week, the P.D.'s Rapid Response Team conducted an investigation related to an illegal drug dealing operation, police said in a Facebook post on July 5.
A subject overdosed on illegal drugs a few days prior and the investigation led to this arrest.
After a traffic stop was conducted on the suspect, a search of the vehicle and apartment turned up several different types of illegal narcotics for sales, a firearm and other drug contraband, police said.