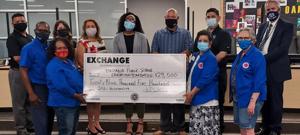 The Exchange Club of Fontana recently awarded $29,000 in scholarships to seniors from all of the Fontana Unified School District's high schools.
A formal presentation was made at the John Piazza Education Center at the FUSD.
The Exchange Club was successful in raising the funds for the scholarships even though the organization's annual Fontana Days event was not held this year due to the coronavirus pandemic. The club is in charge of coordinating the Fontana Days Parade as well as the Christmas Parade and is making plans for these future events.
The Exchange Club is looking for new ideas and partners as it aims for its goal of "Unity in Service," leaders said.
For more information about what the Exchange Club of Fontana is and does, email [email protected] or call (909) 202-9464.