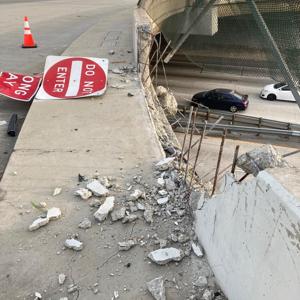 A man died in a traffic collision on the Interstate 10 Freeway in Fontana on June 29, according to the California Highway Patrol.
At about 4:10 a.m., the man was driving a 2005 Ford eastbound on the I-10, west of Sierra Avenue, at a high rate of speed.
As the Ford approached the Sierra off-ramp, it collided into an exit sign and continued onto the off-ramp. The Ford continued traveling eastbound through the off-ramp, where it continued across the Sierra intersection before crashing into the concrete wall and fence on the east edge of Sierra. The Ford flew over the edge of the Sierra overpass, landing in the eastbound lanes of I-10 below, where it came to rest.
As a result of this collision, the driver succumbed to his injuries and was pronounced deceased at the scene.
The cause of the crash is under investigation.
The name of the deceased was being withheld pending notification of next of kin.
The freeway was shut down for several hours while the CHP Rancho Cucamonga Area was handling the investigation.
Anyone with information about this incident is encouraged to call the CHP at (909) 980-3994.