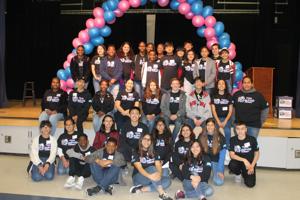 Calling all youth leaders in Fontana: The Mayor's Youth Advisory Council (MYAC) is looking for passionate individuals who want to get involved in the community.
MYAC is an award-winning, San Bernardino County-recognized group of teens that dedicate their time and passion to assist in advancing the City of Fontana.
MYAC's goals are establishing a foundation of leadership, promoting youth development, and providing civic engagement opportunities to young people.
The council is open to students ages 12-18 who are attending high schools and middle schools in the Fontana and Etiwanda school districts.
MYAC hosts meetings twice a month on the first and third Mondays. The first meeting of the month is a general meeting and takes place from 5 p.m. to 6 p.m. The second meeting of the month is a special presentation event and takes place from 5 p.m. to 6:30 p.m.
MYAC participates in many activities throughout the year. Listed below are some annual activities that involve MYAC:
• Annual Teen Leadership Summit
• State of the City of Fontana
• Fontana Art Jazz Fest
• Hispanic Heritage Celebration
• MYAC Awards Ceremony
• Healthy Fontana
• Fontana Days Run
• Summer Concerts
• Fontana Arts Festival
• Festival of Winter
• City and Commission Meetings
• KFON Television
To apply, download an application from the MYAC webpage. For additional information, call the MYAC hotline at (909) 349-6960, Monday through Friday, 8 a.m. to 5 p.m.