MyShopify is popular web software that allows anyone to construct an e-commerce store easily and rapidly. When a user first starts a Shopify store, they are granted a store URL in the format anything.myshopify.com. In other words, if you build a Shopify store, your store will initially contain the element "MyShopify.com." Due to the fact that over 1 million stores have been built with Shopify, there are also a large number of stores with "MyShopify" in their domain.
While you are originally allocated the myshopify.com name, the majority of users choose to change their store's domain to something more appropriate, such as awesomestore.com, as this can be more effective for attracting customers and establishing their confidence. Why then do some store owners continue to utilize the MyShopify domain? Changing your Shopify store's URL to a custom URL generally includes purchasing a custom domain name and linking it to your Shopify account. In other words, it needs a small amount of money and work (typically between $10 and $15 every year), which some individuals may not be prepared to commit.
What is MyShopify?
MyShopify is a free URL supplied by the Shopify eCommerce platform when an account is created. As is the case with other online stores and websites, Shopify provides you with a free domain name or subdomain.
This sub-domain appears as such: yourstorename.myshopify.com.
During the Shopify signup process, merchants choose a store name, which substitutes the "store name" portion of the MyShopify domain described previously.
Consequently, this enables retailers to build a Shopify store without purchasing or transferring a custom domain name. It also means that free-trial users can experiment with the Shopify interface and view a live version of their website on the web without entering payment card information.
MyShopify is a feature of the Shopify eCommerce platform that allows merchants to host a live website at no additional cost. The functionality consists of a sub-domain, which merchants can keep or replace with a custom domain for their eCommerce business at a later date.
How does MyShopify Work?
Shopify is a solution that is hosted. This means that it operates on its own servers and you do not need to purchase web hosting or install any software to utilize it.
You do not own a copy of the product, but instead, pay a monthly price to use it. You may manage your store from anywhere with access to a web browser and the Internet.
With Shopify, everything you need to develop and sell an online store — including designs, a payment processor, a blog, and email marketing tools — comes "out of the box."
However, you may further customize your store by adding apps (more on this later) or by writing custom code.
Myshopify.com is Owned by the Shopify eCommerce Platform
Myshopify.com is a domain name held by Shopify, a Canadian firm. The corporation is a real, publicly traded enterprise with eCommerce revenue in the billions of dollars.
Shopify generates revenue by offering online sellers back-end web software and hosting services. As a result, Shopify is a very popular software solution for small businesses that want to start their own online store but cannot afford to build their own website and order processing software from scratch.
Let's pretend Lena has a modest flower business in her town as an illustration. She believes that by selling floral arrangements online, she may reach a larger audience, so she plans to launch a website. She will likely utilize or at least contemplate utilizing Shopify to manage her online flower shop.
Why Choose MyShopify?
Shopify is an incredible winner if you have the basic technical knowledge and lack the funds to hire a web developer. It is an all-inclusive, plug-and-play, feature-rich, scalable platform with an assortment of elegant templates.
The total adaptability and usability are complemented by performance and dependability.
Benefits of MyShopify:
Usability:

Shopify is the most user-friendly platform

Design:

it offers tons of good-looking themes

Performance:

no-stress uptime and speed

Support:

Shopify has lost certified partners that can help you

Apps:

Hands down the best app to sell are on Shopify

Dropshipping:

integration with Ordoro

Value:

Pricing plans designed to scale as you grow.
Is Myshopify Store Name Important?
When opening an account on Shopify, you are required to choose a store name. Your chosen store name is used to generate your Shopify sub-domain in the format https://yourstorename.myshopify.com. This subdomain is only for internal use, such as connecting to your Shopify account and maintaining your online business.
You may keep this sub-domain as the URL for your online store's public-facing page, but we do not encourage it. To establish credibility and trust, we recommend using a domain that fits your brand and is memorable.
Nevertheless, if you want to disregard our recommendation and keep your Myshopify sub-domain as your customer-facing URL, you can modify your store name but not your Myshopify sub-domain. You must instead establish a new Shopify store.
If you use or plan to use your own custom domain, you can modify the name of your Shopify store for aesthetic purposes, but it will not affect your custom domain or myshopify subdomain.
Can you Change your MyShopify Store Name?
Yes, you can alter the name of your Shopify store. However, you should carefully consider this before changing the name of your online store. If you have already begun marketing and establishing brand awareness, altering your store's name will be counterproductive and can ruin all of your brand-building efforts.
Therefore, while it is possible to change it to the fantastic new name you've imagined, doing so is dangerous. Before beginning, it is best to carefully consider the name of your store. If you include selecting the ideal name on your Shopify to-do list, it will not be overlooked. However, not everyone is able to set up their stores in a systematic manner, and Shopify has provided us with various possibilities.
How to Change Store Name on MyShopify?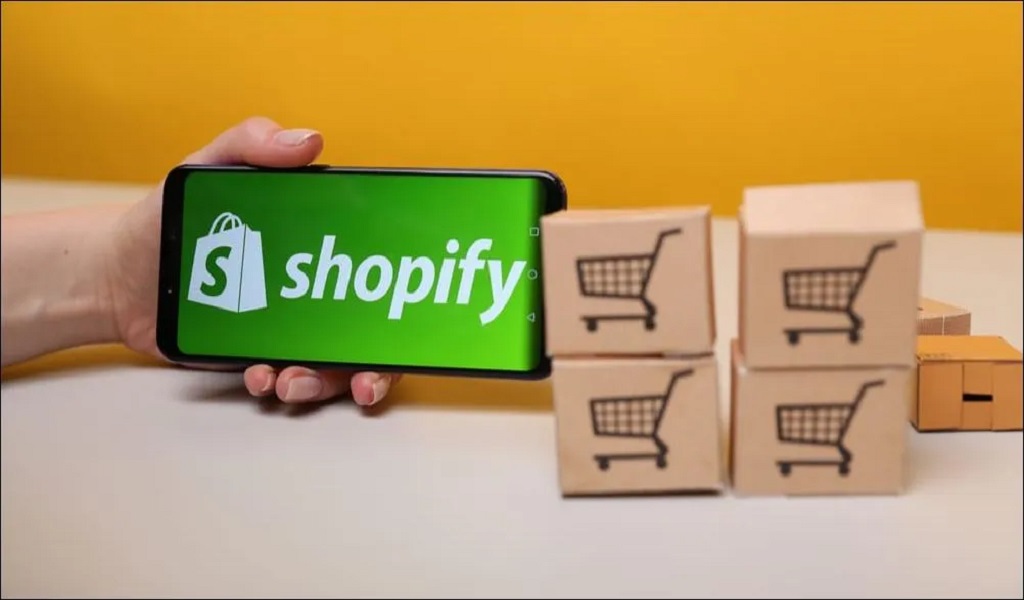 Changing the name of your Shopify store is simple. Select "General" after clicking "Settings" in the bottom-left corner of the screen. The page will then contain a section titled "Store information." There, you can change the name to whatever you choose. Click "Save" and navigate back to the homepage. The modification will be immediately reflected in your store.
What is MyShopify Domain?
A domain is the website address, often known as a URL, where customers may locate your online store.
When creating a Shopify account for the first time, you must choose a store name. This store name is used to generate your Shopify domain as https://yourstorename.myshopify.com. This domain is your principal domain by default.
This domain is used to log in to the Shopify administration dashboard. It is also permissible to utilize this URL as your customer-facing URL, but we highly advise against doing so. Instead, we suggest that you purchase and use your own custom domain name to establish credibility and confidence. Customers desire to transact with your brand, not Shopify.
Should you Buy your Domain from MyShopify?
Shopify offers a free trial and enables users to launch a store utilizing a subdomain of the Shopify domain. However, if you use Shopify's subdomain, nobody would take you seriously. Therefore, when you are prepared to launch your brand, you must get a custom domain.
It is simple for Shopify store owners to set up a domain through Shopify, which is Shopify domains' biggest selling point. Therefore, it makes sense for Shopify customers to purchase domains through Shopify, correct? However, there are numerous aspects you must examine before purchasing domains from Shopify.
We believe it is essential to explore the advantages and disadvantages of purchasing a domain name through Shopify. This will help you make informed decisions about whether or not to purchase a domain through Shopify.
How to Buy a Domain Name for MyShopify Store?
So, you've developed a Shopify-based store. Now you must set an address to it. In other words, a domain name must be purchased. By default, you will obtain a myshopify domain. This resembles my-store.myshopify.com. You can purchase a new domain, modify an existing one, or use an existing domain.
Buy Domain Via Website Admin
First, assume the scenario in which you need to purchase a domain utilizing the Shopify website administration. Follow these straightforward directions:
Open your Shopify store's admin.
On the left, you will notice a menu from which you can access the Online Store section.
In the expanded menu, select Domains.
In the upper-right corner of the website, click on the Buy new domain link.
Now you should add the desired domain name. I wish to create the domain name books-for-soul, for instance. I inserted this text into the search field.
The system will offer available domain names that you can buy.
Select the most applicable option. There are categories for the Most Popular and Other Extensions. To add the domain name, click Buy next to it after selecting it.
Complete the transaction.
Reload the Domains page. If the transaction was successfully completed, your domain name will be added to this page. Select the Change primary domain link.
Now you must select the name and click Save. You will eventually be able to modify it.
Buy a Shopify Domain Using the MyShopify Mobile App (iOS or Android)
On your mobile device, launch the Shopify app and tap the Store icon in the bottom right corner.
In the section titled Sales channels, click Online Store.
Press Websites
Press the "BUY NEW DOMAIN" button at the top.
Enter the desired domain into the search box and view the available domains.
Select the desired domain and click the Buy button next to it.
Add your payment details and finish your order.
Reload the Domains display. If your new domain is available, it will appear here. Click the link Change primary domain.
Select your new domain from the drop-down menu and click Save.
Congratulations! Your new Shopify domain is now operational.
How to Change the Store's Domain Name (URL)
Changing your store's domain name (i.e. your-store.myshopify.com) is sadly not straightforward and takes additional processes, including creating a new account.
First, you must specify precisely what you wish to alter. Are your customers able to view your store's URL? Then, you need only add a new domain to your store and make it the primary domain. You can either utilize the one you already possess or purchase a new one.
Simply follow the steps below:
Navigate to your store's administration panel > Settings > Domains (https://your-store.myshopify.com/admin/settings/domains).
To get a domain, select "Buy a new domain" if you do not already have one. Shopify's.com domain is $14 per year, which is a good price (GoDaddy's is $13 for the first year). Due to the difficulty of transferring/connecting it to your store, purchasing the domain elsewhere is inadvisable.
After completing the purchase process, the new domain should appear in the domain list. Select the new domain by selecting the "Change primary domain" link and selecting it.
Click "Save," and you're done. Your store's URL should now reflect the new domain's URL. Please note that the old "myshopify.com" domain will continue to function and will redirect all traffic to the new domain.
Logging in to MyShopify
You can log in to Shopify using a desktop computer or the Shopify app for iOS or Android.
On your next login attempt, if you enter an erroneous password, you will be required to verify that you are not a robot. You will also be required to verify your identity if your browser is in private or incognito mode, or if you have wiped your browsing history since your last Shopify login. You must wait for all photos in each verification stage to load before clicking Verify.
Discover how to reset your password. If you have forgotten your Shopify login email address, please contact Shopify help.
What Requirements are Required to log in to MyShopify?
If you handle the account as a store owner, you must ensure that the user has a flawless experience and no logging problems. If you are the store owner and wish to access the Shopify store, you do not need to log in from a desktop computer. Additionally, you must verify the Shopify status online. In this case, all components function properly.
All signals are clear and functional. If you observe the yellow, red, or black icons in any portion, you must address the issue.
Log in to your MyShopify Admin on your Desktop
Navigate to the Shopify login page.
Click Next after entering your store's domain or a custom store domain.
After entering your email address, click Continue.
Enter your password, then click the Login button.
If you have previously logged into your store on the same device, your store may be listed on the login screen. In such a circumstance, you can log in by choosing your store, and you will not be requested to provide your email address again.
Log in to your MyShopify Admin on your Android/iOS Device
Follow these steps to access your Shopify admin from your Android or iOS device:
Download Shopify's mobile app
Once the application is installed, tap it to launch it.
If you already have a Shopify account, select a login and enter your email address and Shopify store's password. Tap Sign up if you wish to create a new Shopify account.
Tap Log in
Install and log in to the MyShopify App
Download Shopify's application.
Once the application is installed, tap it to launch it.
If you already have a Shopify account, select Login and enter your Shopify store's email address and password. Tap Sign up if you wish to create a new Shopify account.
If you have multiple Shopify stores associated with the same email address, enter the domain ending in.myshopify.com followed by the login button.
If you have forgotten your Shopify account password, you can reset it by tapping login and then Forgot password?
Tap Log in.
Why is MyShopify So Popular?
There is a reason why Shopify is the market leader and a favorite among successful online merchants. It is intended to appeal to the masses.
In other words, Shopify is an excellent general-purpose e-commerce platform that is both visually appealing and robust. Frequently, I compare Shopify to Apple.
Here are MyShopify Main Advantages
Shopify Is User-Friendly — Shopify's interface is so clear and simple to grasp that my mother could probably launch an online store with it: There is no need for coding experience!
Shopify Is Gorgeous – They provide a number of free, attractive themes
Shopify Manages All Technology — You should not worry about server outages or being hacked. Shopify handles everything, and you may sell an infinite number of products with limitless bandwidth.
Shopify Provides Excellent Support – They have an exceptional support team that is available 24/7. In addition, an army of third-party advisors is available to assist you in getting started.
Shopify's app ecosystem is vast — If you're seeking innovative features for your online store, there's a good chance you'll find a suitable app.
However, the aforementioned benefits come at a cost, and Shopify is not a one-size-fits-all solution. Depending on your precise requirements, Shopify may not be a good fit at all. Thankfully, there are numerous Shopify options that address these deficiencies.
45 Best MyShopify Alternatives in 2022
Shopify is among the most popular e-commerce platforms currently available. Nonetheless, it is not the only option. There are other e-commerce systems worthy of consideration if you're searching for Shopify alternatives. We investigated platforms with comparable features and functionality, as well as distinguishing characteristics. You may prefer a platform with drag-and-drop functionality or without a monthly subscription charge.
Whatever features you prefer, these Shopify alternatives are user-friendly, inexpensive, and feature-rich.
WooCommerce

Wix

BigCommerce

Weebly

Magento

Sellfy

3DCart

Shift4Shop

Prestashop

BigCartel

Volusion

Volusion

OpenCart

PinnacleCart

Squarespace

Web.com

X-Cart

Simvoly

Square Online Store

Squareup

Big Cartel

Dukaan

oberlo.com

Shift4Shop

Easy Digital Downloads

Ecwid

Nexcess StoreBuilder

Prestashop

cjdropshipping.com

Ecwid

shipmonk.com

shineon.com

WixStores

Zyro 

PinnacleCart

Adobe Commerce

MemberPress

Pixpa

CoreCommerce

displays2go.com

anytimemailbox.com

shop.app

printful.com

klaviyo.com

ikas
How to Know if MyShopify.com is Trustworthy?
Make your purchasing, access, and registration decisions based on the outcome of our verification. Here are some suggestions for better comprehending the data:
Always favor organizations that have been on the market for a longer period of time; it is normal for fake sites to have a brief existence.
Cloned sites: always ensure that the site is not attempting to imitate another, and see if the site logo matches the URL. Cloned sites utilize different domains, and our link verification minimizes your odds of falling victim to one by up to 99%. duplicate website fraud;
Paying close attention to the experiences of other consumers can assist you in identifying bogus websites. Always prefer well-respected websites.
Types of domains:.com.br and.com are the most common domain extensions in Brazil. Pay particular attention to domains lacking these suffixes. It is typical for malicious websites to employ extensions like.xyz,.ru,.cn, and others.
Is a Store Hosted on MyShopify.com a Scam?
All Shopify-hosted online stores will have a myshopify.com web address, but the majority, like Lena, will utilize a custom domain such as lenasflowers.com as the customer-facing web address and will hide the myshopify.com web address from potential consumers.
Therefore, it is quite unlikely that you have encountered the myshopify.com domain as a consumer. Several possibilities exist for why this may be the case:
A custom domain has not yet been registered by the online retailer.
The online vendor has a registered custom domain but has not properly configured their Shopify account to use it.
The online vendor considers that a bespoke domain does not cost- and effort-effective.
The myshopify.com store is fraudulent and not a reputable internet merchant.
As indicated by the list of potential causes, it is possible that the online merchant is new to Shopify and still in the process of configuring their account. This is not a fraud, but you should be aware that new sellers are likely inexperienced, may take some time to prepare and send your product, and may make mistakes during order processing (wrong items, address, etc).
Given how inexpensive it is to register a custom domain, an online vendor who does not intend to do so seems suspicious. Shopify does not undertake due diligence on online sellers utilizing their platform until they hit a specific threshold (usually $10,000 in monthly sales), therefore there are undoubtedly scammers on the myshopify.com network who may go unreported.
In conclusion, if you encounter an online store with the web address myshopify.com, the site owner is either relatively new or maybe a scammer. It is unlikely to be a real, established firm with a history of processing and distributing orders effectively.
MyShopify Position on the Sale of Personal Information
MyShopify does not feel that it violates the CCPA by selling consumer information. Shopify may share information with third service partners to perform its services. For instance, Shopify offers its services in part by storing data with cloud storage providers. These service providers are contractually committed to performing only the requested services and are prohibited from using or disclosing the information for their own reasons. Shopify does not think it sells personal information, thus you do not need to opt-out of the selling of your or your customers' personal information.
Merchants and partners should assess whether they sell personally identifiable information and whether they need to provide an opt-out option.
How do Scam Shopify Stores Impact Businesses?
Fraudulent Shopify websites that use your branded content put your consumers, money, and reputation at risk. The imposter reduces traffic to your website by luring potential clients to theirs, hence decreasing revenue. Customers that spend money on the false Shopify store will not spend that money on your genuine brand and products.
Customers tricked by Shopify fraud receive low-quality, counterfeit goods, or occasionally nothing at all. In addition, their sensitive information, such as credit card numbers and addresses, has been shared with these fraudsters, who can continue to abuse it. It's not surprising that these customers are furious after being cheated, and more often than not, this affects your brand more severely than it does the fraudster.
After being victimized by Shopify frauds imitating your brand, consumers frequently return to your actual business to vent. Some may not even realize they were duped by a fraudulent website, and they may report your actual store. This can result in a rise in consumer complaints and unfavorable reviews, which can harm your brand's reputation and destroy the trust you've established with your loyal customers.
What to Do if You've Been Scammed on Shopify?
If you have purchased an item from a Shopify store and have not received it within the stated time limit, you should contact the store directly. Small businesses can take a while to make, package, and send an item, so unless you've observed additional red flags, give them the benefit of the doubt initially.
Report the fraudster to Shopify if you cannot reach the seller or if you contact the store only to discover that you ordered from an imposter. This additional step ensures that Shopify will examine the store and shut it down if fraudulent activity is discovered. This will prevent other others from falling for the same fraud.
Finally, contact your card issuer to request a chargeback. Generally, your card issuer will offer a refund promptly while it investigates the fraudulent merchant, so you won't have to go after the fraudster yourself. PayPal also provides this service.
MyShopify Pros and Cons
Pros
Ease of Use
Shopify's business strategy is subscription-based. This means that you only need to join up with Shopify, and their step-by-step wizard will assist you in establishing a store in no time. Additionally, you can purchase an existing store via the Shopify Exchange Marketplace.
Once configured, the interface is rather simple to use, and updates need minimal coding. Additionally, you have access to tens of thousands of Shopify applications to add any feature you choose to your site.
You Have Access to a Variety of Features
You can easily add products, manage your inventory, configure shipping, and generate discount codes using Shopify's standard capabilities. When it comes to enhancing your store's functionality, you can nearly always find what you're searching for. Shopify store also offers more advanced services, such as wholesale and B2B connectivity, for customers with more specific needs.
It's User-Friendly
Shopify is renowned for having a highly intuitive platform. The interface is intuitive, a factor that frequently determines the usefulness of an eCommerce company platform. This has generated a big number of success stories for the organization and established its reputation as a trustworthy entity. As stated previously, this makes it an excellent option for those who are new to online selling.
Customer Service
Shopify offers help around the clock, and its employees can be reached by phone from numerous regions. There is also a large knowledge base where you can get solutions to your questions.
Access to Many Payment Processors
Shopify permits the use of numerous payment processors, such as PayPal, Stripe, and Shopify Payments. This simplifies the payment process for your consumers.
The more straightforward the checkout procedure, the more sales you will enable. Access to a multitude of payment processors is one of the most essential Shopify features to remember.
Cons
Transaction Fees
Shopify Payments charges 2.9% plus 30 cents for each transaction (the rate goes down with upgraded plans). Using third-party gateways incurs a flat 2% fee on the basic plan, 1% on the Shopify plan, and 0.5% on the Advanced Shopify plan.
Shopify Payments is not available in all countries; therefore, if you opt for a third-party payment arrangement, you will suffer additional fees.
Limited Design Customization Options
Although Shopify offers a vast selection of themes, design customization options are limited. If you want to customize the look and feel of your store, you will need to employ a designer.
A poorly designed website may deter prospective clients from engaging with your business. In such a circumstance, they may browse the website of a competitor and never return. A badly designed Shopify website can potentially negatively impact your company's search engine optimization. Therefore, you need to hire an SEO specialist to secure your success, even if it's simply to assist you with your technical SEO and early content plan.
It Can Be Expensive
You must pay a monthly charge to use it, and you must also pay for any premium services you choose to access.
This should not be a problem if handled appropriately, as you may create more cash by purchasing additional features. Consider it an investment in the longevity of your online store.
Overly Reliant on Apps
Shopify has fewer built-in capabilities than other platforms, so you'll need to utilize apps to enhance your store's functionality.
No Email Hosting Access
Email hosting is not included in Shopify's pricing levels. If you wish to create an email address for your store, you must find a different service provider. Even though the procedure is basic, you must include this expenditure in your overall budget. For instance, hosting an email account with @yourdomain using services such as Google's email hosting will cost you approximately $10 per month.
MyShopify Reviews and Discounts
As there are numerous MyShopify-stores, it would be incorrect to presume that all online reviews pertain to the same MyShopify-store. This is certainly bad for the store owners who, for whatever reason, are utilizing a MyShopify domain instead of a proper one and now have to endure the fact that less trustworthy individuals are hurting the reputation of other MyShopify stores by their activities.
In addition, while there are several distinct MyShopify-stores, there is no discount code that would apply to all of them. Nonetheless, if you've landed upon this page because you're seeking a discount for operating your own MyShopify store, this page is likely to be useful.
Frequently Asked Questions (FAQs) about MyShopify
Are there any free sites like MyShopify?
Wix is another eCommerce platform that provides a free alternative to Shopify. This plan provides you with free access to the drag-and-drop site editor, which you can use to build your online store. You can also choose from dozens of free themes, eliminating the necessity for coding.
Why Shopify is the best option?
Shopify gives you advanced capabilities via a plugin/application-style framework that allows you to download, install, and personalize the website. It offers inventory management, accounting, and business reporting in addition to capabilities for boosting sales and social media promotion.
What is the future for Shopify?
Shopify is a firm with significant growth prospects, but it also has questionable profitability and its shares are highly costly still. A decline in lending rates might be advantageous for SHOP, and the revival of Covid could be advantageous for e-commerce enterprises.
What eCommerce platform is better than Shopify?
BigCommerce. Founded in 2009, BigCommerce is a versatile, open SaaS eCommerce platform that enables businesses of all sizes to build and scale their online stores. BigCommerce is superior to Shopify if you want to build and scale your business. Shopify is ideal for getting started.
Is Shopify really worth it?
Regardless of the size of your business, Shopify should always be considered. Its scalability is one of the characteristics that contribute to its users' confidence and reputation. With a staggering number of add-ons and integrated features, the eCommerce platform guarantees maximum satisfaction for even the largest of stores.
Is Shopify still the best?
Overall rating. Shopify is one of the best eCommerce systems available today, especially if you own a large enterprise. It is intended to assist anyone in constructing their own scalable online store with hundreds of built-in features and a multitude of apps.
Is Shopify better than WordPress?
When comparing these two solutions, Shopify is the superior choice for sales-driven firms seeking an intuitive, feature-rich, and somewhat automated e-commerce platform. WordPress requires somewhat more adjustment, but it is the clear winner in terms of versatility.
Is Shopify worth it for a small business?
Shopify is the greatest e-commerce platform for small enterprises, in our opinion. We chose Shopify over dozens of other e-commerce software options because it includes everything required to create, operate, and manage a successful e-commerce firm.
Is selling on Shopify profitable?
Are Shopify sales profitable? Short answer: yes. The epidemic has expedited the shift to e-commerce and created several chances for small and large internet businesses to earn money online.
Why Shopify is falling?
One of Shopify's earliest investors, Vijay Viswanathan of Mawer Investment Management, left the company earlier this month due to the company's inadequacies. According to Bloomberg, Viswanathan said he left the firm because it faced too much competition, but he added that Shopify was still well-run.
What is the biggest problem with Shopify?
How to add products to Shopify is one of the most problematic aspects of Shopify. Because the issue could originate from your product listings or other markets, it becomes difficult to determine exactly where it originated.
How expensive is Shopify?
Shopify Basic is $29 per month and 2.9% plus 30 cents per online transaction. The primary Shopify package is $79 per month plus 2.6% of each transaction plus 30 cents. Advanced Shopify is $299 per month plus 2.4% plus 30 cents per transaction.
Is Shopify a good place to sell?
Overall rating. Shopify is one of the best eCommerce systems available today, especially if you own a large enterprise. It is intended to assist anyone in constructing their own scalable online store with hundreds of built-in features and a multitude of apps.
How much does Shopify make per sale?
Shopify also takes 1.6% and 20p from each online sale. You are receiving a great deal for your money. This is for established companies who have achieved a certain level of eCommerce success and wish to expand.
Is Shopify good for beginners?
Is Shopify a Good Platform for Beginners in Ecommerce? Yes. Shopify is one of the most user-friendly eCommerce platforms for helping novices and small business owners create and manage their first online store.
If you are interested
You can also read our others: Education System in South Korea, iZombie Season 6, Dua Lipa Net Worth, Autumn 2022 Fashion Trends, iPhone 14 price, Kengan Ashura Season 3, How to Enhance Children's Vocabulary Skills, Thank you in Hindi, Most Horrific Serial Killer Series, High School DxD season 5, How to Teach Your Child to Take Responsibility,  Kanye West Net Worth, Health Benefits of Solitude, Thank you in German, Bill Gates's Smart Toilet,  MrBeast Net Worth, Quiet Quitting, Thank you in Spanish, Highest Paid CEO in the World, How to Control Overworking,  StoriesDown,   Netflix Plan, Hurawatch,  Billions season 7, Apple Security Updates, WiFi 6 Router, Uniqueness, TerraPower, How to buy hawkers sunglasses, XXXX Dry Review, Allergies During Monsoon.
OnePlus 10T5G Review, Bflix, Best Ben Affleck Movies, Oppo Find N Fold Specifications,   Happiest Countries in the World, Gramhir, Manero Flyback Watch,  Instastories, Football players Haircuts, Microlearning, Best Educational Apps for Kids, ifun, Samsung Galaxy Z Fold 4, All American Season 5, Rocky Leather Skirts, Triangle of Sadness Release Date, Dynasty Season 6, Hydrotherapy Spas, Chicago Fire Season 11, Prey Release Date, Cobra Kai Season 5, Shameless Season 12, Jilo Virals, FindSnap, SnapTik, New Marvel Movies 2022, Orthorexia Nervosa, Gotham Season 7, Picuki Entertainment, Net Worth, Tech, Game, and Sports.
Related stories like True ID, Apex Legends Wallpaper, Goku, Kproxy, FFmovies, NBA Streams XYZ, Post Malone Net Worth, Bloodborne 2,  Jalshamoviez,   123Mkv,   MoviesFlix,  Deltarune Chapter 2, Brent Rivera net worth, M4ufree, M4uhd, GC Invoker Utility,  VIPLeague, Moviezwap, The Equalizer 3, Eddie Murphy net worth, Baki Season 4, Baki Season 5, Frozen 3, F95Zone, Milana Vayntrub net worth, Jim Carrey net worth, and Astrology related articles like crystals for protection.