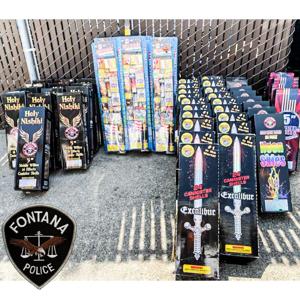 Police seized 1,250 pounds of illegal fireworks from a garage in Fontana on June 30, according to the Fontana Police Department.
The P.D.'s Rapid Response Team located an individual who was selling and storing illegal fireworks in his hot garage, where they were being stored in a hazardous manner, the P.D. said in a Facebook post.
The suspect attempted to flee from officers upon arrival but was quickly apprehended, police said.
"This is the continuous work to keep extreme fire hazards down and prevent injuries in Fontana," the Facebook post said. "Over 3,400 pounds have been seized so far over the past month or so."