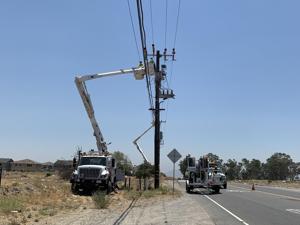 The Fontana area should see a sharp reduction in the impacts of Public Safety Power Shutoffs (PSPS) because of recent expedited infrastructure improvements, according to Southern California Edison.
Over the past two years, many local residents have expressed frustration over the temporary shutoffs, which SCE has implemented many times to protect public safety under dangerous weather conditions.
Due to strong winds that blow through the Cajon Pass at various times of the year, Fontana is considered a high fire risk location, and because severe drought and rising temperatures may make this upcoming wildfire season an even more menacing one, SCE has moved quickly to try to alleviate the threat.
To reduce the need for PSPS, SCE workers have installed insulated wires (covered conductor) in the northern areas of Fontana and Rialto near Sierra Avenue and Terra Vista Drive.
"The insulated wires will prevent arcing or sparking on SCE's infrastructure during an extreme weather event and reduce the size, scope and duration of Public Safety Power Shutoffs," said Reggie Kumar, a public safety advisor with SCE. "For example, if a palm frond or metallic balloon blows into the power lines, the insulation around the power lines will prevent them arcing or sparking."
The upgrades will also increase reliability in general, said Paul Netter, an editor and writer for SCE.
"We want to reduce the number of PSPS events, reduce the duration of PSPS events and reduce the number of customers who experience PSPS events," said Terry Ohanian, SCE's director of grid hardening. "It's good news for our customers affected by PSPS."
The shutoffs which took place in October of 2019 created hardships for thousands of local residents and business owners, and additional shutoffs took place the following year.
"We do not take lightly the use of PSPS to mitigate wildfire risk and we appreciate our communities' patience as we accelerate our grid hardening to reduce the customer impact of PSPS," said Erik Takayesu, the SCE vice president. "We understand that 2020 was particularly difficult and we have heard clearly from customers, regulators, government officials and public safety partners that we must reduce the need for PSPS."