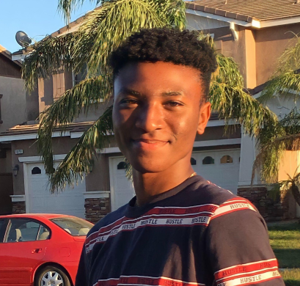 Four Inland Empire high school students, including one from Summit High School, have been selected as Bank of America Student Leaders.
Emmanuel Okeke of Summit is joined by Diego Martinez of West Valley High School, Diya Theodpore of Redlands High School, and Jamaal Willis of Barstow High School.
They have started their paid summer internship experience with local nonprofits KVCR, Inland Empire Community Foundation, One Future Coachella and Riverside Art Museum and will earn $17 per hour and receive a Chromebook as part of the internship. Similar to last year, the program has been adapted to a virtual format.
Without access to career skills-building opportunities like the Student Leaders program, many young people may be left behind from a fast-changing job market, leading to higher rates of youth unemployment, Bank of America said in a news release.
As part of its commitment to workforce development as a pathway to economic mobility, Bank of America is connecting 500 teens and young adults to paid jobs, job training and internships across the Inland Empire through additional programs such as Youth Action Project, Athletes for Life and Goodwill Industries of Southern California.
"Bank of America remains committed to supporting young adults by connecting them to jobs, community engagement opportunities and leadership development," said Bansree Parikh, Inland Empire president, Bank of America. "We recognize young adults are the future of our community, which is why programs like Student Leaders are one way we can provide paid opportunities for students to gain job experience while developing a diverse pipeline of talent as they enter the local workforce."
At an early age, Okeke noticed the continuous shortage of healthcare workers around the world and embarked on his own research to figure out why. His own drive and curiosity inspired him to do something about it on a local level. He started two club organizations at his local high school: one with the Red Cross during the pandemic and the other to provide high schoolers with medical-oriented volunteer and learning opportunities. He also is part of the Mayor's Youth Advisory Council, where he has focused on bringing awareness to educational inequality within Fontana.
The Student Leaders program, which started in 2004, recognizes 300 community-focused juniors and seniors from across the U.S. annually. The Inland Empire Student Leaders will engage in an eight-week paid internship and participate in programming that includes a collaborative, mentor-focused project working closely with their nonprofit internship employers.
As part of this summer's program, Student Leaders will also take part in a virtual Summit in partnership with the Close-Up Foundation to participate in Stanford University's Young Democracy at Home program, which encourages conversations about current issues facing young people today.