True ID is a login that True Group customers can use to access a variety of services and products, including checking service pricing and personal information, topping up, and paying bills. Make online purchases or view and download items. Customers in the True group will also be eligible for special discounts on a number of services and products. Before accessing True iService, customers must connect with their TrueID Username and Password. For the purpose of viewing client information and conducting secure transactions.
Apart from that, True ID is an app that will provide you with a lot of screen time. Thai television shows and films, including Thai television shows, are available. Once you've picked what you want to watch, simply press the 'Play' button to start watching it almost instantly, just like any other movie-watching platform. TrueID's data has already been classified into different categories. It's much better because you don't have to pay to watch it. There are no commercials, either. Technical information is included in each TV episode, series, or film. One of True ID's biggest qualities is its abundance of content. As a result, you'll never have to worry about watching anything more enjoyable. There's something for everyone, from amateur fake documentaries to popular stories. You can see it with this app.
History of True ID (ทรูไอดี)
True Group's digital platform is True ID. According to True Group in Q1/2020, TrueID now has the highest download volume in the entertainment application category. On both Android and iOS platforms, it earned 141 million monthly video views and 36.9 million video-on-demand (VOD) service views, marking a 400 percent increase year over year. Furthermore, the number of TrueID content subscribers has increased to 285,000 since the beginning of the year.
Customers have recently been pampered by TrueID with free marketing! Only TrueMove H users lose data and can use TrueID to connect all networks for free for 60 minutes per month; simply download the TrueID software in one location and enjoy all of the benefits. For additional details, go to https://trueid.onelink.me/14Ip/21d19372.
5 powerful content categories of True ID (ทรูไอดี)
Sports, particularly the English Premier League, the world's most popular football league, are unavoidably the most popular content during this period, but there are also six leagues with five main trophies to choose from, as well as other sports such as tennis, golf, and NBA basketball.
Additional information The film is a brand-new release that recently hit theatres. For example, Guardians of the Galaxy Vol. 2 was previously released and is still available to view at True ID, as are other films.
When it comes to music, there are numerous playlists to choose from. The most prominent feature, however, is Korean music, which appeals to a Thai audience that enjoys listening to it.
Live Streaming and Video on Demand on TV are available for True Vision TV content and digital TV.
Lifestyle. There are many different kinds. A few of the subjects discussed are eating, traveling, exercising, horoscopes, and women's experiences.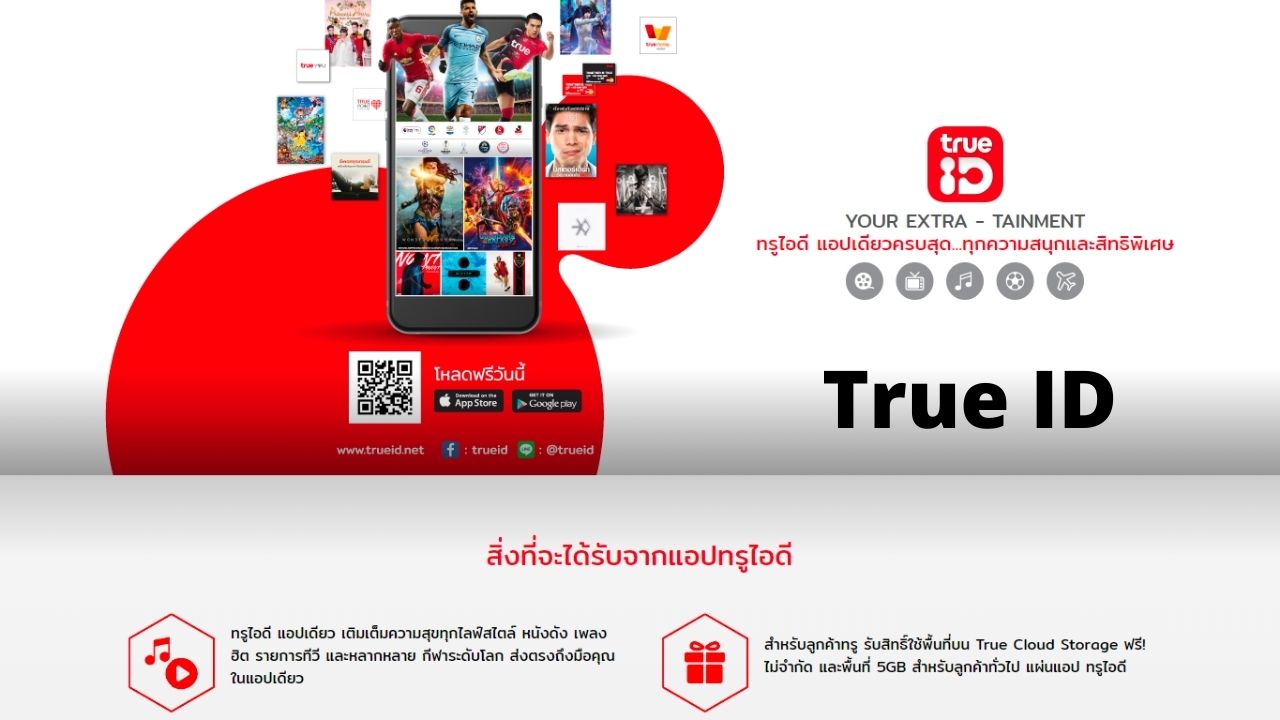 How to get a True ID (ทรูไอดี) Username and Password?
One of three techniques can be used to obtain a True ID Username and Password.
1. All new TrueMove H postpaid and prepaid customers will receive a True ID Username and Password through SMS.
2. Register with an e-mail address: This option is ideal for customers who use devices that don't support SMS, such as some iPad models and Air cards, or who want to use IService over the internet. Once your email address has been registered, True iService will send you updates.
3. Login with a TrueMove H number: If you registered for True ID with a TrueMove or TrueMove H number before April 2012, you can log in to True iService with that number as your login and password.
Those who have not yet submitted an application for a True ID. It is recommended that you use your email address to register for True ID.
What are the capabilities of TrueID TV boxes?
When you sign up for the True package on the hot promotion page, you'll get a free home internet plan, as well as mobile internet and a TrueID TV box. Today, we'll take a closer look at the TrueID TV box.
True ID TV is an Android TV that can connect to the Internet, watch movies, and play games through Wi-Fi or LAN, as well as use a USB connector to connect to a mouse and keyboard. It's best to utilize a strong Wi-Fi transmitter, but you can also use the True Wi-Fi router that comes with it.
What does TrueID TV have to offer?
Movies, news, sports, music, and cartoons are all available on True ID TV's box. The best aspect is that you can use it if you already have True Point from the original True service. True users can utilize it to rent a quality movie for 35 baht instead of 35 baht, which is very convenient. You can choose the Thai language as well as the video resolution for playback while renting movies.
TrueID (ทรูไอดี): It's Not Just About Watching Movies
Thanks to Google Play and Google apps, we can watch Youtube and live online gaming matches on Android TV via Twitch TV.
We can also use TrueID TV to access the Cast screen. Google Chrome is a web browser that was created by Google. The cast makes it easy to cast a screen phone, open an app that isn't supported by TrueID TV, and so on. Collaboration is encouraged, but you can also restrict access and support to individual apps.
On public television networks, we may also watch ordinary TV shows and HD channels. Each TV show's broadcast schedule is simply accessible to users. The True ID TV interface appears to be far more user-friendly than the original True box, which requires satellite access. plus a great deal more data Some channels can be viewed backward.
Another interesting feature is the name of the True ID TV box's connection. A decent speaker can be connected to the box via the 3.5 mm socket.
Creating a little personal Home Theater by allowing us to watch movies, dramas, concerts, and other events with a better experience than listening to music through the TV's speakers.
A TrueID TV box can be purchased in two ways:
1. An empty box (one without a contract) costs 2,490 baht, although the number of channels available is governed by the TrueID account associated with the box.
2. The True Online Package + Mobile Internet + TrueID TV Box includes this.
How can I get a True ID so that I can utilize True Box?
Before TrueBox can be used, TrueID must be qualified and registered through numerous channels. and follow the company's policies TrueID can be obtained by completing the following form:
TrueID's User Properties
Be a natural person with no nationality limitations. If you're over the age of 20 and wish to use any portion of True ID that requires payment, create an account.
You will be immediately registered by the system
Postpaid and prepaid customers that signed up for TrueMove H's new service will be immediately registered by the system.
Online registration is available.
Register on the website's main page.
Fill in your contact information and phone number.
To use the app, you must first create an account.
Users must first download the TrueYou or True ID applications in order to create a TrueID account.
What is the relationship between True Box and TrueID?
True Box, also known as True ID TV, is a system that uses the Internet to receive TV signals. The user must first register for a TrueID code in order to log in. It can be used on any form of internet network Anyone who wishes to watch a wider selection of channels can do so on a monthly basis by using the internet signal to watch up to 48 channels for free. If someone has a TrueVision subscription, they can watch the TrueVision channel on their TrueID TV set. This device transforms a standard television into a smart TV. The Android system can also be used to load a wide range of applications.
True ID (ทรูไอดี) features:
You have to be a natural. There are no nationality restrictions.
You must first register in order to acquire the User Name and Password.
How to buy a package True ID TV Box?
Scroll down the homepage until you locate the bundle you want, then click TrueVisions NOW to finish the payment process.
After you've completed the application, go to the package details page to review the information.
How to buy a package on the True ID website?
Fill out the TrueID form at trueid.net.
From the drop-down menu, select the Package option.
Select TrueVisions NOW from the drop-down menu.
By clicking on a payment option, you can select it.
Choose a payment method.
After filling out the form, click Confirm.
Hire a purchased bundle successfully (to inspect the product) TrueVisions NOW, the renting package, will appear after choosing Profile and selecting Package.)
How to use the True ID app to watch videos?
To begin, open the TrueID program.
Choose TrueVisions NOW from the TrueVisions bubble.
Select the channel you'd like to watch.
How to use the TrueID app to watch previous programs?
To begin, open the TrueID program.
Choose TrueVisions NOW from the TrueVisions bubble.
Select the channel you'd like to watch.
From the drop-down menu, choose the program chart.
Select the show you want to watch later.
How to download the TrueID app?
Open the TrueID app and log in using any mobile phone number from any network.
From the drop-down menu, choose "Profile" or "Call/Chat."
From the drop-down option, choose to Allow access to contacts.
Press to go to the chat page.
Get started.
Make a profile for yourself.
By clicking "Pals," you can create a list of friends.
To start a chat, click on the right corner. to get started with video calls
Make a video call for free! Yes
The only app that will complete your digital existence is the TrueID app, which is available in both the App Store and the Play Store. The TrueID app, YouTube: TrueID, and Facebook: TrueID all have further information.
How can I cancel the True ID package?
If you do not want the package to be automatically renewed, you can cancel it. If you press cancels, the package will not be immediately canceled. Keep an eye out for the expiration date.
Press the Cancel button if the previous bill has not been paid. The system will immediately cancel the package.
You can cancel a transaction using the App in the following way:
From the drop-down menu beneath your profile photo, select TrueID Plus Package. 2. Select Cancel Package from the drop-down menu.
Confirm the package's cancellation.
Your order has been successfully canceled.
If members think it's still valuable, they can add new details. To double-check, I used to see the True ID number on the back of the mic.
Frequently Asked Questions (FAQs)
Q: Is it possible to pay for TrueID membership? What's more, through which channels?
A: You have the following options for making a payment:
– The True ID application channel for credit card payment True Money Wallet or the TrueMove H monthly service cost on the Android operating system.
— Apple's in-app purchase feature on iOS is used to process True ID Payment through the application channel.
– Both credit card and True Money Wallet transactions are accepted on the True ID website (For TrueMove H customers, they will be able to watch some TrueID Plus content at no additional cost until February 28, 2021).
Q. Can I cancel my TrueID Plus subscription?
A: You can cancel the True ID Plus package at any time, and your monthly membership fee will be returned.
Q. Can I view the TrueID Plus bundle on several devices?
A: The TrueID application can be used to see the TrueID Plus package. The True ID website and TrueID TV boxes can be used simultaneously by up to two devices.
Q. What is the cost of the TrueID Plus package's service?
A: The TrueID Plus plan currently costs 59 baht per month, down from 119 baht during the promotional period (5 February – 31 July 20). (Until February 28, 2021, TrueMove H customers will be able to watch some TrueID Plus content at no additional charge.)
Q. What stations and shows are I able to watch? on the bundle True ID Plus?
A: There are approximately 2,000 movies on demand (VOD) available, including foreign and domestic films as well as other series. With the True ID application, you may access nearly 50 channels.
Apart from this, you can also read our other Entertainment, Net Worth, Tech, Game, and Sports related stories like Apex Legends Wallpaper, Goku, Kproxy, FFmovies, NBA Streams XYZ, Post Malone Net Worth, Bloodborne 2, Jalshamoviez, 123Mkv, MoviesFlix, Deltarune Chapter 2, Brent Rivera net worth, M4ufree, M4uhd, GC Invoker Utility, VIPLeague, Moviezwap, The Equalizer 3, Eddie Murphy net worth, Baki Season 4, Baki Season 5, Frozen 3, F95Zone, Milana Vayntrub net worth, Jim Carrey net worth, and Astrology related articles like crystals for protection.