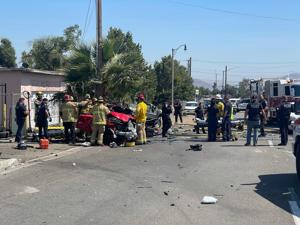 Two persons were killed in a four-vehicle collision in Fontana on the afternoon of July 7, according to the San Bernardino County Fire Department.
The incident took place at about 2:45 p.m. on Sierra Avenue at Ramona Avenue, between Foothill Boulevard and Baseline Avenue.
Three people were transported to hospitals, according to the Fontana Police Department.
Right before the incident occurred, police received word that a vehicle was traveling southbound on Sierra at an extremely high rate of speed.
The vehicle, a green Ford Expedition, then moved into a northbound lane and crashed into a red car containing four people. Two of those people — a mother and her daughter — died as a result of the collision, and two other people in the red car were transported to a hospital in critical condition, according to reports.
The driver of the Expedition was also hospitalized in critical condition, according to reports.
Two other vehicles sustained damage as a result of the incident, but those motorists were not hospitalized.
Sierra was blocked off for several hours while police conducted their investigation.
A person who was a witness to the crash sent an email to the Herald News stating: "I was heading south to the post office. He (the speeding driver) cut me off through the right side and ended up on the opposite northbound lanes. His vehicle began to rock side to side seemingly losing control and slammed head-on into the vehicles that were heading northbound as he was heading south."