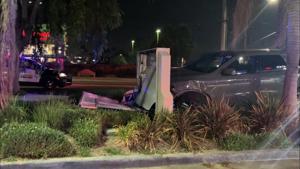 A motorist crashed a vehicle into a sign in Fontana in the early morning hours of July 5, according to the Fontana Police Department.
At about 1 a.m., officers were dispatched to the AM/PM market at Citrus Avenue and Foothill Boulevard regarding a traffic collision, said Public Information Officer Kevin Anderson.
It was determined to be a solo vehicle collision into the sign outside the market.
There were no injuries, and the vehicle was towed from the scene, Anderson said.