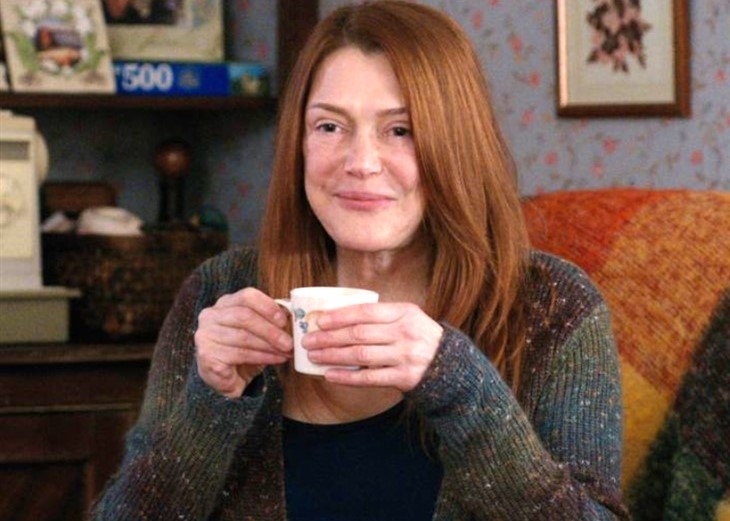 Virgin River spoilers and updates tease that Lynda Boyd may reprise her role as Lily despite being killed off in Season 3. The latest season delivered more twists and turns including the death of Lily.
The third season of Virgin River premiered on Netflix recently. Viewers know that she was diagnosed with cancer. Towards the end of the third season, the character succumbed to terminal pancreatic cancer.
Although her character was killed off in episode 8 of season 3, fans may still have a chance to see her next season.
Lily Boyd May Return To Season 4 In Flashbacks
In an interview with RadioTimes.com, Boyd teased that she may reprise her role in season 4 but it won't be in the present day but in flashbacks.
"When I did have that chat that day with those producers, they said that the plan was to bring me back in flashbacks – like Mel's husband, her dead husband," the actress teased.
"Nobody has said anything yet. As far as I know, Tara will look after Chloe. I'm pretty sure Annette [O'Toole] will come back as Hope. Nobody has any idea," Boyd added.
Viewers know that Tara, portrayed by Stacey Farber, was introduced to the Virgin River in season 3. She's Lily's eldest daughter who came to town to help her mother take care of baby Chloe. Meanwhile, Annette O'Toole also debuted in the series as Hope, the town mayor. O'Toole had a limited appearance in the series because of the pandemic.
If Boyd does reprise her role in the upcoming season, she won't be the first one to return in flashbacks. The show has brought back several characters in the same manner such as Mark Monroe (Daniel Gillies).
Good Witch Spoilers & Recap 07/18/21: Season 7 Episode 9 'The Search' #GoodWitchhttps://t.co/n20RKDnWdn

— SOS/CTS/HH (@SoapOperaSpy) July 19, 2021
Virgin River Season 4 – Release Date
Virgin River season 4 is reportedly kicking off its production later this month, as per Digital Spy. Netflix has yet to confirm the release date and it's too early to tell since the streamer has a history of canceling shows despite being renewed such as The Society and I Am Not Okay With This. If there is a season 4 Virgin River, it may air mid-late 2022.
If the show returns, major characters may return including Mel (Alexandra Breckenridge), John (Colin Lawrence), Hope (Annette O'Toole), Jack (Martin Henderson), Doc (Tim Matheson), and Charmaine (Lauren Hammersley).
Be sure to catch up on everything happening in Virgin River right now. Come back here often for Virgin River spoilers, news and updates.